At the heart of Nashville, Tenn., a fast-changing city undergoing one of the biggest development booms in the American South, is an unyielding timelessness.
While new hotels and high-end condos rise ever higher, Nashville's sense of itself as Music City U.S.A. grounds it in a mindset that welcomes opulence and splendor but rejects pretentiousness.
It shows in the rich tapestry of its nightlife, from honky-tonks to rooftop lounges. "From the spectacular food scene to the arts, your options are endless," says Jessica Averbuch, CEO of Zeitlin Sotheby's International Realty in Nashville. "They call us NashVegas for a reason!"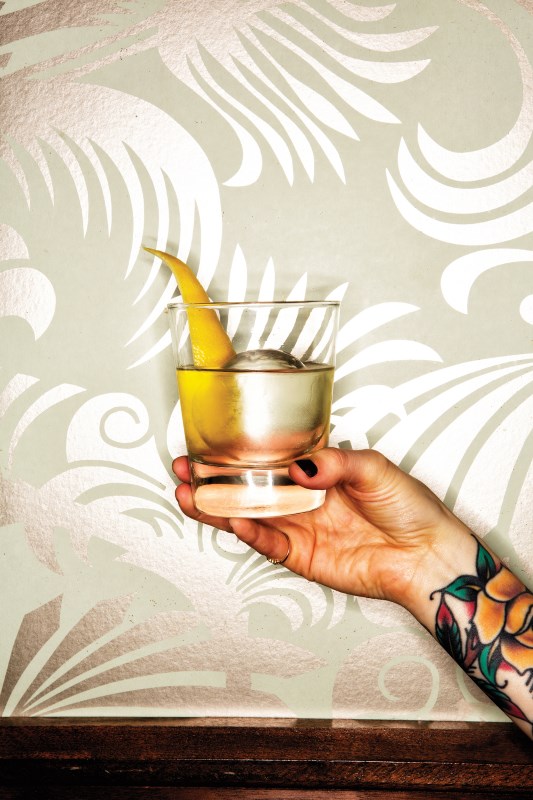 PATTERSON HOUSE
Nashville isn't a city known for rules, but at the Patterson House, it pays to heed them. No reservations. No cellphones except for texting. No fighting. No name-dropping. No standing. But the rules aren't so hard to abide by and are completely worth it once you sip the cocktails: The libations are heavenly.
Syrups are house-made, juices fresh-squeezed. The ice, twice-filtered, comes in eight varieties.
The names are crafty, too: consider Horse by Committee, a fennel- and cardamom-infused strawberry margarita; or the Night Owl, whiskey muddled with apricot liqueur, sugar cane, and mint.
In a city full of crowded, rowdy bars, Patterson House, with its 1920s speakeasy vibe, cultivates an atmosphere of refined calm —and all that near the raucous Music Row, no less.
RUDY'S JAZZ ROOM
Country is Nashville's bread and butter, but, for the nonfans visiting the city, its omnipresence can feel suffocating. Enter Nashville's sole jazz club, opened by two natives a year ago in the hip Gulch neighborhood.
Theirs is a small joint—low ceilings, cave-dark—with red lighting, quirky furniture, and Persian rugs: the ideal atmosphere for serious jazz.
It is no wonder, then, that some of the best players in the U.S. have taken the stage, such as Victor Wooten (of the Flecktones), Jeff Coffin (of the Dave Matthews Band), and Duffy Jackson (who has played with Duke Ellington, Sammy Davis Jr., and other icons).
ANALOG
You enter Analog, a new music venue and cocktail lounge in Music Row's regal Hutton Hotel, through an unassuming wooden door behind a wrought-iron gate emblazoned with the letter A. The gorgeous two-level, 300-person capacity space, part of a just-finished multimillion- dollar renovation of the Hutton, showcases all genres of music, with shows five nights a week. Allen Stone, Josh Ritter, and the Shadowboxers have all graced the stage. Poetry readings and other performances are also featured.
Analog's stupendously designed interior and comfy, relaxed ambiance, coupled with its no-nonsense cocktail offerings and top-of-the-line Bose sound system, makes for an experience.
DINO'S
Not only does Dino's offer one of Music City's best cheeseburgers, this unassuming bricks-and-mortar icon in the hip East Nashville neighborhood keeps the patties cooking until 2:30 a.m., later than virtually all other comparably delicious dining establishments. "We get a line out the door most nights," says owner Alex Wendkos. "It gets pretty rowdy."
The building, which got some minor improvements when Wendkos took over in 2014—paint, a patio, new cooking equipment—looks nearly identical to the way it did five decades ago. They even kept the old fridge. Today, Dino's is as popular as ever with both the city's old guard and newer hipster arrivals. "It's definitely your late-night go-to," Wendkos says. "It's affordable and approachable. Everyone's welcome."
ACME FEED & SEED
Though it opened just four years ago, this eatery and music venue feels like a fixture on the Broadway strip. Occupying three stories and the rooftop of an ancient agricultural- supplies warehouse (circa 1882), Acme looks both backward and forward, paying homage to the city's history of launching stars by booking the most innovative songwriters playing today.
Growing up in Nashville in the 1960s, owner Tom Morales recalls how "every honky-tonk was a discovery platform," crawling with music agents looking for "the next superstar." Acme, he says, seeks to bring that back. But it isn't all nostalgia. They also offer, on the second floor, some of the city's best sushi.
A tip from Averbuch: "It's a fun place to bring a group and stay for the night, moving between the different floors."