Jor Bagh
New Delhi, Delhi, 110003
India
Jor Bagh New Delhi, Delhi, 110003 India
Jor Bagh
New Delhi, Delhi, 110003 India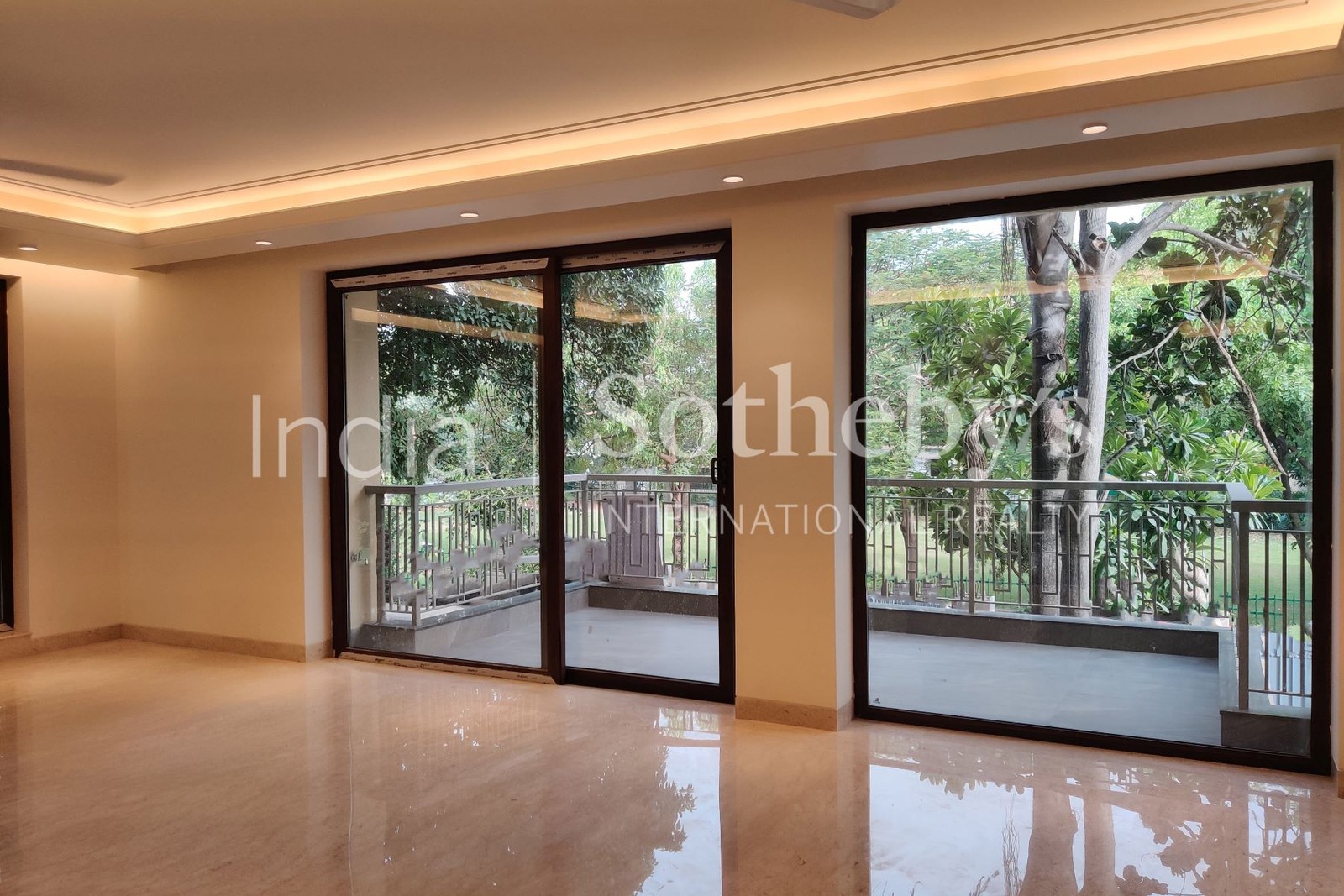 Ground Floor & Basement in Jor Bagh
This magnificent duplex, available for sale in Jor Bagh, occupies a sprawling 480 sqm (approx.) corner plot, offering the rare advantage of facing two parks, thereby providing sweeping green views. Newly constructed and meticulously designed, this home boasts a built-up area of 505 sqm (approx.) and is ready for immediate occupancy.
Attention to detail has been paramount in the creation of this property in New Delhi. The structural framework follows RCC standards compliant with the Seismic code for Delhi Zone IV, ensuring enhanced safety. Additionally, the property is equipped with electric vehicle charging ports, high-grade cement, and extra-thick reinforced columns, utilizing the highest grade of building materials available in the Indian market. The interior finishes are on par with the standards seen in international residential developments worldwide. Moreover, the apartment features a 66 sqm (approx.) car parking area with an open driveway, along with ample space under the stilt floor zone.
Nestled in Jor Bagh, one of the most central and upscale locations in Delhi, this property epitomizes elegance and sophistication. The area predominantly comprises large bungalows surrounded by lush greenery, offering a serene and open ambiance. Residents of Jor Bagh belong to prominent business families and top corporate professionals, ensuring a distinguished neighborhood.
The property's strategic location in Central Delhi provides easy access to leading schools, shopping centers, restaurants, parks, and places of worship, catering to every aspect of modern living. Jor Bagh enjoys seamless connectivity to Central, South, West, and North Delhi, ensuring convenient accessibility to all major parts of the city. The famous Khan Market, known for its diverse offerings, and the lush Lodhi Gardens, offering a tranquil retreat, are just a mere 5 minutes away.
In conclusion, this duplex in Jor Bagh presents an unparalleled opportunity to own a stunning and well-appointed residence in the heart of Delhi's prestigious locality. Its exclusive location, sophisticated design, and proximity to essential amenities make it an irresistible prospect for those seeking a luxurious and well-connected living experience in the capital city.
DELHI RERA NO.: DLRERA2018A00042
About The Area
Jor Bagh, an exclusive and upscale locality in New Delhi, is renowned for its tranquil ambiance, lush greenery, and luxurious residences. Nestled in the heart of the city, this prestigious neighborhood offers a unique blend of serenity and convenience, making it a sought-after residential destination for discerning individuals.One of the distinctive features of Jor Bagh is its spacious bungalows and expansive plots, providing residents with ample privacy and openness. The area predominantly consists of large independent houses and villas surrounded by beautifully landscaped gardens, offering a peaceful retreat from the bustling city life.The locality is flanked by two prominent landmarks, Lodhi Road and Safdarjung's Tomb, both of historical significance, adding to the charm of the area. Residents of Jor Bagh enjoy close proximity to the iconic Khan Market, an upscale shopping and dining destination known for its boutiques, cafes, and gourmet restaurants.Jor Bagh boasts excellent connectivity to various parts of Delhi, making it a preferred choice for professionals and families. The Delhi Metro's Violet Line serves the nearby Jor Bagh Metro Station, providing seamless access to other parts of the city. Additionally, the Indira Gandhi International Airport is within a convenient driving distance.The neighborhood is home to some of Delhi's most influential families, prominent business leaders, and top corporate professionals, creating a vibrant and elite community. The tranquil surroundings and well-maintained parks enhance the quality of life for residents, providing opportunities for outdoor activities and leisurely strolls.Education and healthcare facilities in and around Jor Bagh are of high standards, offering access to prestigious schools, colleges, and world-class hospitals, ensuring a well-rounded lifestyle for families.Overall, Jor Bagh stands as a symbol of elegance, sophistication, and exclusivity, presenting a rare blend of modern amenities and natural beauty in the heart of the bustling metropolis. This distinguished locality continues to attract those seeking a luxurious and refined living experience amidst the rich heritage and verdant surroundings of New Delhi.
Show More
Amenities & Features
Listing Details

Property ID

BE8WNH

Property type

Land

Marketed By

India Sotheby's International Realty

Status

Available

Listing Price

$3,970,641

Interior

Amenities

Gated Community, Park View

Additional Features