Französische Straße 56
Berlin, Berlin, 10117
Germany
Französische Straße 56 Berlin, Berlin, 10117 Germany
Französische Straße 56
Berlin, Berlin, 10117 Germany
Price

Bedrooms

2

Bathrooms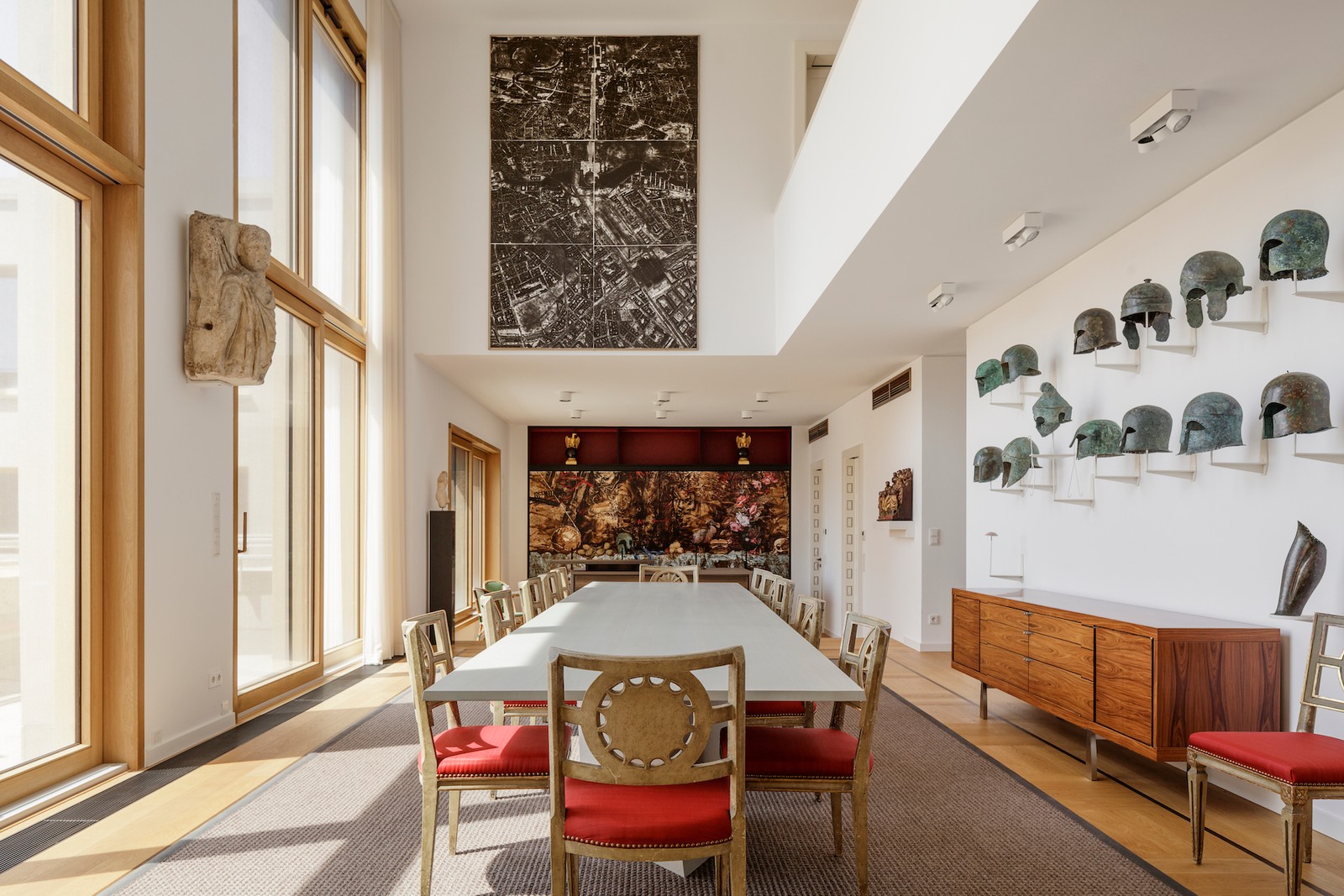 Spacious Penthouse at the remarkable Palais Varnhagen by David Chipperfield
This penthouse is one of the three masterpieces of Palais Varnhagen, the one with the best view and inspired by the historic city palace in the sense of 19th century 'salon life', it offers ample space for stylish gatherings on the 6th floor with 6-meter floor to ceiling windows and an impressive gallery.

The building was designed by David Chipperfield in 2014, and offers all aspects of contemporary and elegant housing in the heart of Germany's capital close to Brandenburg Gate, the famous Adlon Hotel and know luxury shopping department Galeries Lafayette.
A large lobby serviced by a concierge evo­kes the flair of a traditional grand hotel, while the apartment is equipped with modern technology regarding safety and climate control. A lift allows direct access to the apartment, where a spacious living- and dining area allows for elaborate entertaining. The kitchen is hidden behind a set of sliding doors, painted by the artist Ilya Gaponov. The upper level features two bedrooms and ensuite bathrooms, one of them with a steam room and sauna. The apartment features lovely interior details, such as palisander veneer on the built-in furniture and walk-in closet to mention only a few.
This unique property is rounded off with a 60sqm on-top roof terrace with sweeping 360-degree view over the whole of Berlin.
At the beginning of the 19th century, 'salon life' flourished in many bourgeois flats in European metropolises: people from different backgrounds met in 'literary salons' to exchange ideas. In Berlin, Rahel Varnhagen's evening parties, which took place at Französische Straße 20 until 1827, were particularly popular: Wilhelm von Humboldt, August Wilhelm Schlegel, Prince Louis Ferdinand of Prussia, the Mendelssohn family, Georg Wilhelm Friedrich Hegel and Heinrich Heine were among Rahel Varnhagen's famous guests and admirers of her salons.
Just a few houses away, this history now lives on, where the salon idea finds a new stage with private soirées, house concerts and other receptions: the Palais Varnhagen.
Star architect David Chipperfield drew inspiration from the historic city palace for exclusive receptions and elegant dinner events at Palais Varnhagen. The salon flats and penthouses of the city palaces take up the advantages of upper-class flats in old buildings and focus on generosity and representation.
@font-face {font-family:'Cambria Math'; panose-1:2 4 5 3 5 4 6 3 2 4; mso-font-charset:0; mso-generic-font-family:roman; mso-font-pitch:variable; mso-font-signature:-536870145 1107305727 0 0 415 0;}@font-face {font-family:Calibri; panose-1:2 15 5 2 2 2 4 3 2 4; mso-font-charset:0; mso-generic-font-family:swiss; mso-font-pitch:variable; mso-font-signature:-536859905 -1073732485 9 0 511 0;}p.MsoNormal, li.MsoNormal, div.MsoNormal {mso-style-unhide:no; mso-style-qformat:yes; mso-style-parent:''; margin:0cm; mso-pagination:widow-orphan; font-size:12.0pt; font-family:'Calibri',sans-serif; mso-ascii-font-family:Calibri; mso-ascii-theme-font:minor-latin; mso-fareast-font-family:Calibri; mso-fareast-theme-font:minor-latin; mso-hansi-font-family:Calibri; mso-hansi-theme-font:minor-latin; mso-bidi-font-family:'Times New Roman'; mso-bidi-theme-font:minor-bidi; mso-fareast-language:EN-US;}.MsoChpDefault {mso-style-type:export-only; mso-default-props:yes; font-family:'Calibri',sans-serif; mso-ascii-font-family:Calibri; mso-ascii-theme-font:minor-latin; mso-fareast-font-family:Calibri; mso-fareast-theme-font:minor-latin; mso-hansi-font-family:Calibri; mso-hansi-theme-font:minor-latin; mso-bidi-font-family:'Times New Roman'; mso-bidi-theme-font:minor-bidi; mso-fareast-language:EN-US;}div.WordSection1 {page:WordSection1;}

About The Area
The Palais Varnhagen in Berlin Mitte in Franzoesische Straße is quietly located in the side street of Friedrichstraße between Gendarmenmarkt, Brandenburg Gate and Unter den Linden. This district is home to numerous historically valuable and monument-protected buildings, noble boutiques, as well as the Galeries Layafette and restaurants of culinary note. The district of Berlin Mitte is probably one of the most famous and diverse in Berlin and is characterised by the government quarter, the old city centre, many sights as well as huge parks and cultural facilities for every taste. Everything is in the immediate vicinity or can be reached on foot, by bicycle, by public transport or by car. @font-face {font-family:'Cambria Math'; panose-1:2 4 5 3 5 4 6 3 2 4; mso-font-charset:0; mso-generic-font-family:roman; mso-font-pitch:variable; mso-font-signature:-536870145 1107305727 0 0 415 0;}@font-face {font-family:Calibri; panose-1:2 15 5 2 2 2 4 3 2 4; mso-font-charset:0; mso-generic-font-family:swiss; mso-font-pitch:variable; mso-font-signature:-536859905 -1073732485 9 0 511 0;}p.MsoNormal, li.MsoNormal, div.MsoNormal {mso-style-unhide:no; mso-style-qformat:yes; mso-style-parent:''; margin:0cm; mso-pagination:widow-orphan; font-size:12.0pt; font-family:'Calibri',sans-serif; mso-ascii-font-family:Calibri; mso-ascii-theme-font:minor-latin; mso-fareast-font-family:Calibri; mso-fareast-theme-font:minor-latin; mso-hansi-font-family:Calibri; mso-hansi-theme-font:minor-latin; mso-bidi-font-family:'Times New Roman'; mso-bidi-theme-font:minor-bidi; mso-fareast-language:EN-US;}.MsoChpDefault {mso-style-type:export-only; mso-default-props:yes; font-family:'Calibri',sans-serif; mso-ascii-font-family:Calibri; mso-ascii-theme-font:minor-latin; mso-fareast-font-family:Calibri; mso-fareast-theme-font:minor-latin; mso-hansi-font-family:Calibri; mso-hansi-theme-font:minor-latin; mso-bidi-font-family:'Times New Roman'; mso-bidi-theme-font:minor-bidi; mso-fareast-language:EN-US;}div.WordSection1 {page:WordSection1;}
Show More
Amenities & Features
Listing Details

Property ID

QXMHVK

Property type

Apartments

Marketed By

Berlin Sotheby's International Realty

Status

Available

Listing Price

$8,457,447

Utilities & Building

Year Built

2016

Style

penthouse

Parking

2 Car Garage, Garage

Interior

Amenities

Balcony, Doorman, Security System, Tile Flooring, Walk-in Closet(s), Hardwood Flooring, Private Elevator, Steam Room, Terrace / Outdoor Space, City Strip Views, 1 Fireplace, Concierge Services

Full Bathrooms

2

Partial Bathrooms

1

Bedrooms

2

Additional Features