First Impressions Matter
Why Gustave White
Sotheby's International Realty
In this market, every property deserves exceptional service and creative marketing.
UNPARALLED MARKETING
Don't just get your property on the market. Get it the unique attention it deserves.
In this unprecedented real estate market, sellers and their properties deserve the highest degree of attention. With Gustave White Sotheby's International Realty, our clients can expect personal and experienced service with the industry's best agents, innovative marketing tools, analytics and feedback, and maximum exposure. Our association with Sotheby's International Realty ensures not only superior local expertise but a global showplace for your property.
We Don't Just List Homes, We Tell Their Story
At Gustave White Sotheby's International Realty, we believe every property has a unique story - like the terrace specifically built for a summer family reunion, or the open concept kitchen designed to entertain every holiday. We'll highlight the wall of windows that gives you the perfect view of sunsets over the Sakonnet River while enjoying a book on the sofa. These stories make a house a home and our vision for telling its story is designed to show your home in its best light.
Marketing Your Home
Buyers want to visualize home spaces as their own and notice the details that make a space special. The research on staging is clear: staging your home prior to listing can help not only sell more quickly, but also for the best price. As a client of Gustave White Sotheby's International Realty, you'll have access to some of the area's best home stagers and receive helpful direction from your agent to prepare your property for the market and show it to its best advantage.
List Your Home
Impeccable Presentation
How your property is presented on the internet can make the difference between a buyer calling to schedule a showing or moving on to the next listing. We understand the importance of first impressions when a potential buyer encounters your listing. We implement a professional approach to every property, and your home will be featured with the finest marketing services: professional photography, high-definition videography, drone footage, virtual tours, virtual staging, custom-designed marketing pieces, and a tailored advertising campaign.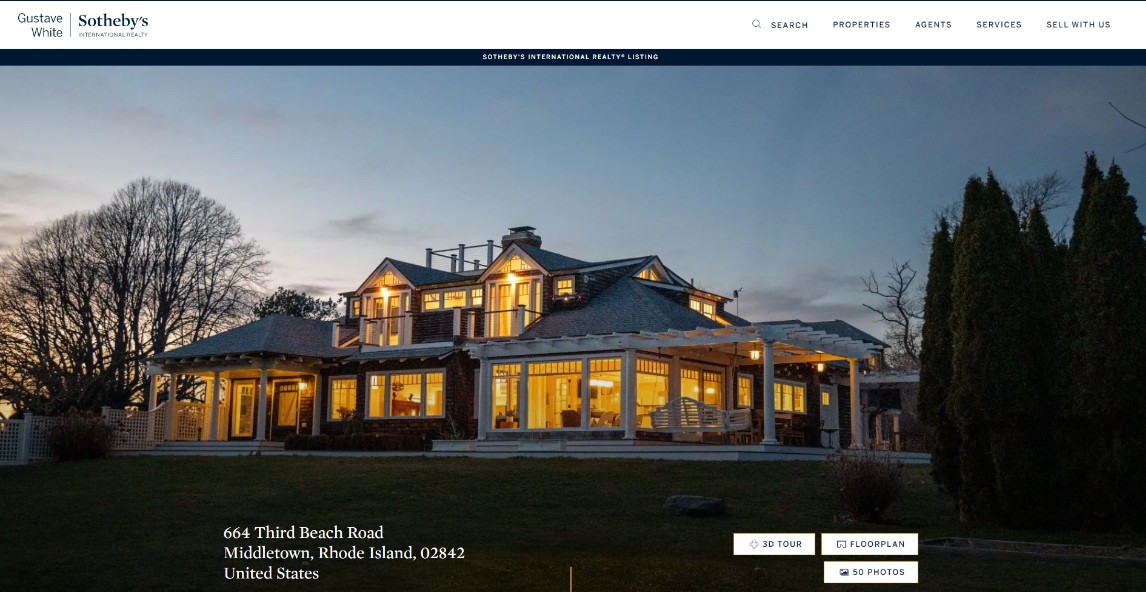 Property Distribution & Superior Exposure
The exposure and worldwide reach of our listings is a crucial piece of what sets us apart from the rest of the industry. Our global media partners include the most authoritative news, lifestyle, and financial voices, as well as real estate-centric websites, introducing your home to discerning audiences worldwide. Once a property is showcased on gustavewhite.com, it is also exclusively distributed to more than 100 Sotheby's International Realty affiliate websites around the world as well as numerous local and regional websites. We complement those efforts with targeted digital and print advertising that are often exclusive to Sotheby's International Realty, a differentiator competitors cannot replicate.
Matterport 3D Tours
Matterport is the industry standard for 3D real estate technology. Our company-owned 3-D Camera and media platform allows us to easily create immersive 3D virtual experiences to view from a desktop, mobile browser or VR headset. Matterport is the only property marketing solution that gives virtual visitors the ability to truly tour a listing.
Professional Photography, Videography, and Drone Footage
We take pride in showcasing properties with rich photography, high-definition video, and virtual reality tours to inspire buyers. Professional aerial photography and videography provides consumers with a different vantage point, taking them above eye-level to understand the full scope of a property - ideal for showcasing estates, proximity to water or historic landmarks, architectural highlights, unique topography, auxiliary buildings, and landscaping. Drone footage captures the big picture.
ActivePipe Email Marketing
ActivePipe is an enterprise email marketing solution that creates beautiful, professional, and mobile responsive emails that integrate with our internal listings system, allowing us to constantly review performance.
List Your Home
Expertise that reaches down the block and around the world.
We distribute our listings to the most relevant websites around the globe and measure the impact with top analytic tools. Our worldwide partners include the most authoritative news, lifestyle, and financial voices, as well as real estate-centric websites. Nothing compares to the expertise and exposure we can offer.
Exclusive Highlights
The way you market your home should have that wow factor too.
Outreach Solution

Social Ad Engine

Social Ad Engine is a custom tool developed exclusively with Facebook that produces tailored Facebook and Instagram campaigns with custom copy and photos — all with the click of a button.
Incomparable Social Media
We drive more eyes to your listing.
Sotheby's International Realty has a growing number of more than a million followers viewing content on lnstagram, YouTube, Facebook, Pinterest, Linkedln, Twitter, WeChat, and the popular RESIDE® Blog. Their award-winning YouTube channel has more video views and subscribers than any other real estate brand. Our Gustave White Sotheby's International Realty social media also garners a great deal of local attention, reaching more than 12,000 followers with high quality content on Facebook and lnstagram.
1,000,000

Engaged social followers

#1

Most viewed real estate channel on youtube

48M

Annual visits to sothebysrealty.com
Significant Sales
We achieve record-breaking results for our clients.
In Southern New England from Newport's Ocean Drive, east to Tiverton and Little Compton, west to South Country, north to Middletown, Portsmouth, and beyond, and all along the coast of Narragansett Bay, Gustave White Sotheby's International Realty continues to achieve record sales numbers.
Residential Sales

TOP 4

In Newport County

Residential Sales

TOP 3

In Rhode Island

Average Sale Price

#1

In Rhode Island

Dollar Volume

#1

In Newport County
List Your Home with Gustave White Sotheby's International Realty
Sell your home with our tailored solution for you.
Connect with our local experts who can create a comprehensive and customized plan for your home that takes into consideration all avenues of marketing.