Mandi Road
New Delhi, Delhi,
India
Mandi Road New Delhi, Delhi, India
Mandi Road
New Delhi, Delhi, India
Price

Bedrooms

6

Bathrooms

Interior

Exterior

2.5 Acre(s)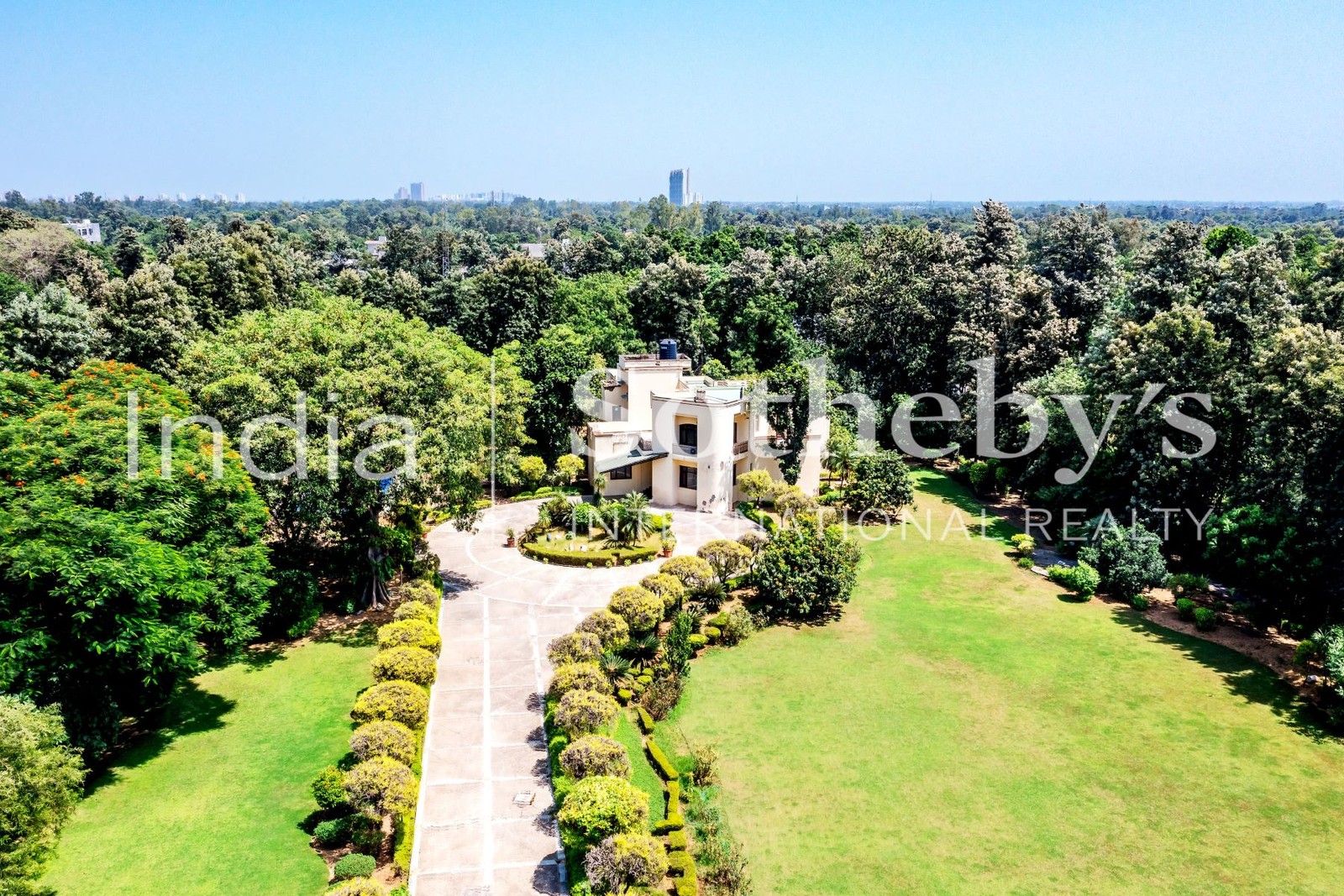 Property details
Property type

Single Family Homes
Farmhouse on Mandi Road
Located on the Mandi Road in Jaunapur, this picturesque and charming farmhouse encapsulates the essence of countryside living. Nestled amidst lush greenery with a private swimming pool, this home is spread across a plot size of 10,115 sqm (2.5 acre) and a sanctioned built-up area of 485 sqm (5,270 sq. ft.) offering a unique retreat for those seeking a tranquil haven with easy access to the heart of Delhi.
Situated on a sprawling piece of land, this north-east facing farmhouse for sale is a testament to spaciousness and natural beauty. The expansive grounds, surrounded by lush greenery, create a sense of privacy and seclusion, a perfect sanctuary to escape the demands of city life.
The farmhouse itself is a harmonious blend of modern amenities and classic farmhouse charm. Its architecture and design exude warmth and character, with large windows and open spaces that invite abundant natural light. High ceilings and stone accents create an inviting and cozy atmosphere, making it an ideal setting for family gatherings and social events.
The property offers a range of amenities designed to enhance the quality of life. Six spacious bedrooms with scenic views and attached bathrooms ensure both comfort and convenience. Outdoor areas feature well-manicured gardens, a tranquil pool and ample space for outdoor dining and recreation. It also comprises of a large terrace with a stunning view of the tall silver oak trees encircling the estate.
It's a place where time seems to slow down, allowing you to savor life's simple pleasures while creating cherished memories in a stunning natural setting. This area is characterized by its lush green landscapes, scattered farms, and a peaceful atmosphere that provides a welcome escape from the urban hustle and bustle. Jaunapur retains its rustic charm while being conveniently located close to essential amenities and well-connected to the city center. The Mandi Road area, in particular, adds to the appeal with its scenic beauty and proximity to recreational spaces, making Jaunapur a unique and sought-after neighborhood in the capital city.
DELHI RERA NO.: DLRERA2018A00042
About The Area
Jaunapur is a quaint and charming village nestled in the historic Mehrauli area of South Delhi, India. This locality retains its rustic, old-world charm while being in close proximity to the bustling city life. Known for its narrow lanes, traditional architecture, and lush greenery, Jaunapur offers a unique blend of rural serenity and urban convenience. The area is dotted with traditional homes and farmhouses, which add to its picturesque allure. Mehrauli's rich historical heritage, including the famous Qutub Minar, is just a stone's throw away, making Jaunapur an ideal place for history enthusiasts. Despite its tranquil atmosphere, Jaunapur is well-connected to modern amenities and is gradually evolving into a sought-after residential enclave, offering a slice of both Delhi's past and present.
Show More
Amenities & Features
Listing Details

Property ID

G4E8EX

Property type

Single Family Homes

Marketed By

India Sotheby's International Realty

Status

Available

Listing Price

$7,485,030

Utilities & Building

Lot Size Unit

Acre(s)

Lot Size

2.5

Interior

Amenities

Gated Community, Gardens

Full Bathrooms

6

Partial Bathrooms

1

Bedrooms

6