On Instagram, the chef Malcolm Livingston is often seen in Japan, or else he's in the Bronx, Barbados, or at Art Basel in Miami. There he is on the Rachael Ray Show, or at Instagram HQ posing with his colleagues from Ghetto Gastro, the groundbreaking far-more-than-a-catering company that he co-founded in 2012.
His photos of perfect sweet potato pies and chocolate-coconut cakes— all plant-based and simply but exquisitely decorated—are usually crafted at the Andrew Freedman Home, a landmark building on the Grand Concourse in the Bronx where Ghetto Gastro rents a kitchen and maintains a community garden. The Bronx is Livingston's home turf, and the borough has remained his beacon during his peripatetic life as a renowned pastry chef.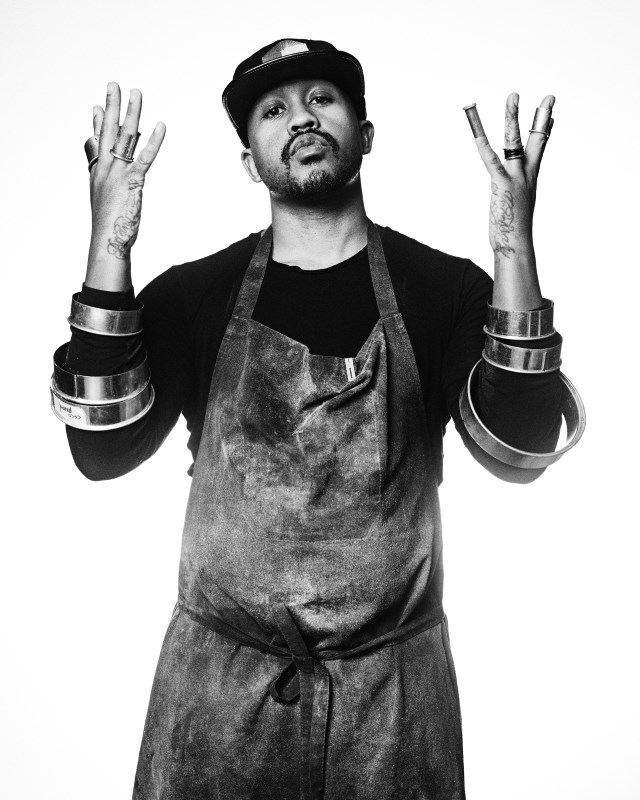 Chef Livingston, 31, his wife Meeka, who is a professional dancer, and their toddler daughter travel extensively, and he was calling RESIDE from just outside Tokyo. He and his wife were high-school sweethearts, and they were in Japan visiting her family. With appreciation of the international experience, "I come back with a spark," he says. "'Cause when you're out here, there's just so much you can get inspired from—the people, the culture, the food."
BIG-NAME CLIENTS, PLUS A DEDICATION TO GIVING BACK Livingston and his Ghetto Gastro partners Jon Gray, Lester Walker and Pierre Ser-rao are known for collaborations with brands and celebrities—they created the menu for the Black Panther movie premiere, for one—and they've man-aged to embrace high art, street culture and pop thrills all at once. But their dedication to reinvesting in their Bronx community is paramount, partnering with food-justice organizations and neighborhood programs while taking on big-name clients.
What Livingston and his colleagues in Ghetto Gastro are trying to do is present delicious, healthy food with a hypercre-ative global perspective and a deep focus on community and culture.
EMBRACING CLEAN EATING In 2014, Livingston took a detour to Copenhagen—he'd landed a gig working at the world's best restaurant, Noma, with its mad genius chef, René Redzepi. After grueling stints at Le Cirque, Per Se and WD-50 in New York, Copenhagen was a welcome shift, Livingston says, and his time there was transformative.
However, while overseas he start-ed to suffer from health issues; an allergy specialist led him toward a diet that eliminates most meats, alcohol, sugars and white flour from his menu. Primarily a pescatarian these days, he's extra-motivated to make the most delicious plant-based foods he can. Especially as a pastry-oriented chef, "It's the question of why and how can we make something better," he says.
"Just constantly, how can you challenge yourself? … I want people to have something and be like, 'Man, this is crazy. I want more of it, and I can't believe this is healthy!'"< br/> Now back in New York, he's dedicated to Ghetto Gastro: "I really came back from Noma to do this and put my all into this," he says, but the culture shock was real. "I miss Sundays in Denmark," he says. "Sunday's a good day in Copenha-gen because of this idea they call hygge. It's coziness—and I never really under-stood what cozy was until I was there… You're with your friends or your family. You have a good dinner, you sit down, people have fireplaces. It's a real vibe."
SHARING THE BRONX WITH THE WORLD
Still, Livingston and his Ghetto Gastro crew know how to set a scene. He stresses that he and his partners aren't just chefs and businessmen, they are creatives, designers, artists, media makers, DJs, connectors and more.
Livingston is an ice cream whiz, and a Ghetto Gastro ice cream line is in the works—it's called 36 Brix, a reference not only to the Wu-Tang Clan's 36 Chambers record but to "brix," a food-science term for sugar levels.
Brix also shortens to BX, back home to the Bronx once again. "That's what we try to do," Livingston says. "We bring the Bronx to the world and the world to the Bronx."