Local Roots
Founded in 1957 by Jack B. Piatt, Millcraft began as a recognized leader in industrial fabrication and steel manufacturing. In the 1970's, the company parted from the steel industry and began focusing 100% of its efforts toward commercial real estate. Millcraft has since become a recognized leader throughout Western Pennsylvania for its development and redevelopment of properties. Following the success of the residential developments,Millcraft began looking at residential brokerages to align its services with.In 2017, Lucas Piatt, President and then COO of Millcraft, launched Piatt Sotheby's International Realty with the goal of bringing top-notch service, unparalleled marketing, and global reach to both Pittsburgh and the surrounding areas providing our clients with luxury service at every price point.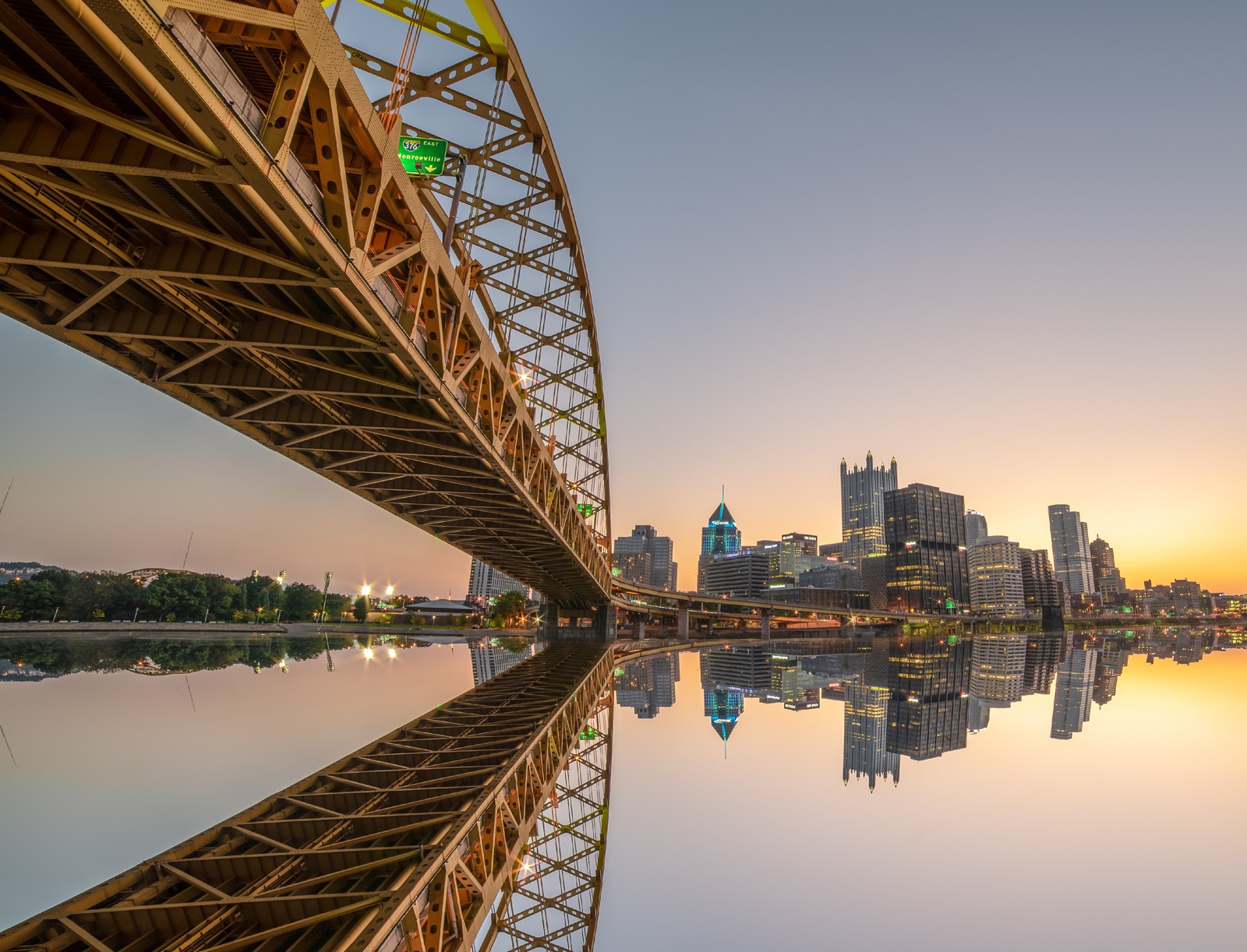 Global Reach
$204 Billion in annual global sales 1,000 offices in more than 81 countries and territories. Over 25,000 agents, 46 million visits to sothebysrealty.com. Sotheby's International Realty is the only truly global real estate brand, with a network of residential brokerage companies in more than 79 countries and territories. Through our personal relationships, our sellers reach a highly qualified global clientele.
Our Brand, Your Advantage
The Sotheby's International Realty® brand is built on the centuries-long prestige of the world's preeminent auction house. Recognized worldwide, the prestige of the Sotheby's brand is unparalleled.
Property Distribution
The exposure and worldwide reach of our listings is a crucial piece of what sets us apart from the rest of the industry. Our global media partners include the most authoritative news, lifestyle, and financial voices, as well as real estate-centric websites. Once a home is showcased on sothebysrealty.com, it is exclusively distributed to more than 100 Sotheby's International Realty affiliate websites around the world.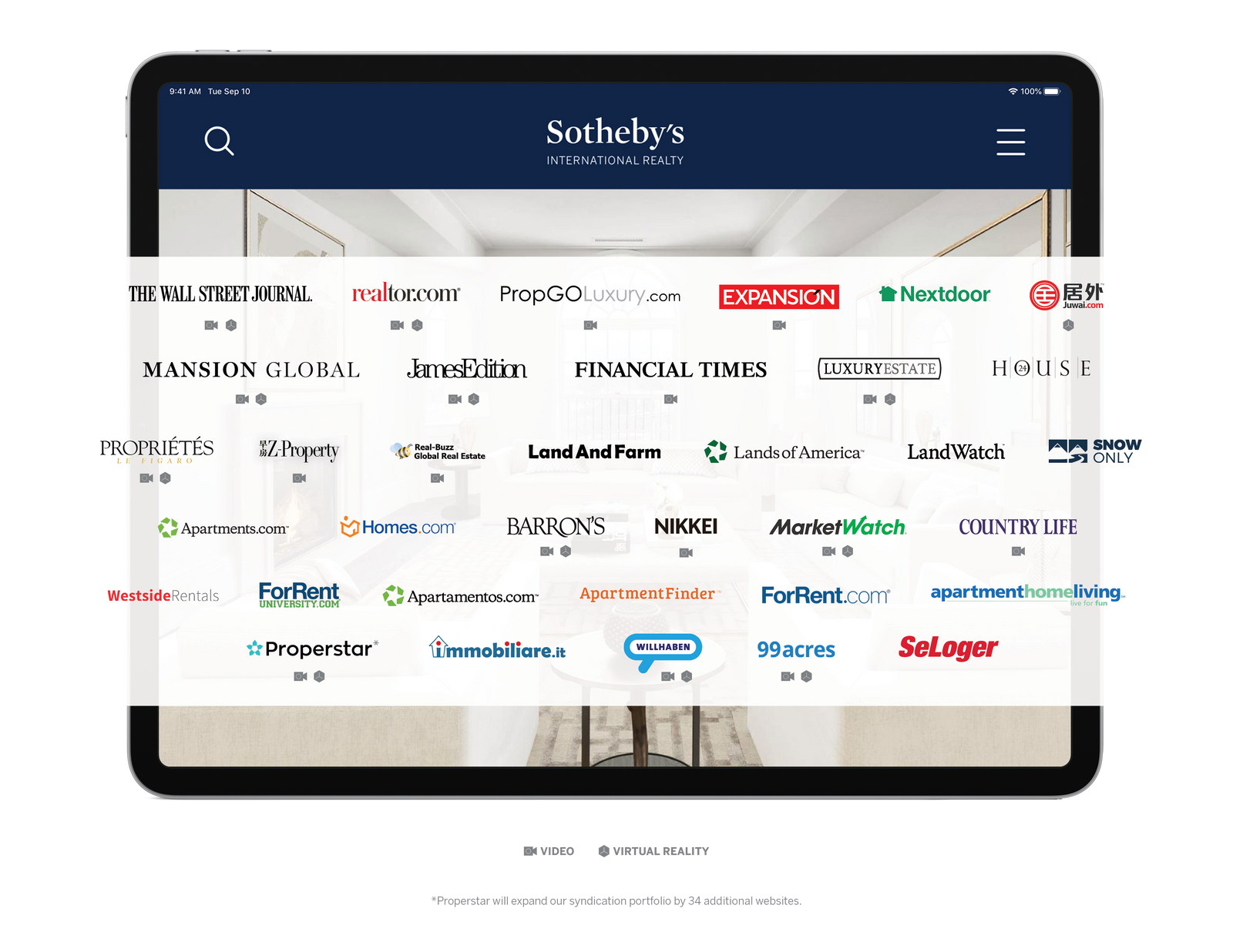 Exclusive Partnerships, Superior Exposure
The exposure and worldwide reach of our listings set us apart. We partner with media powerhouses to introduce your home to discerning audiences worldwide. We complement those efforts with targeted digital and print advertising plans that are often exclusive to Sotheby's International Realty.
Matterport 3D Tours
Matterport is the premier 3D real estate solution that is changing the face of property marketing. Our 3D Camera and media platform allows anyone to quickly, easily and affordably create immersive 3D virtual experiences from real-world properties, to view right from a desktop, mobile browser or VR headset. Matterport is the only property marketing solutions that gives virtual visitors the true feeling of a property as if they were there.
Lifestyle and Property Videos
Now more than ever video is playing a significant role in successfully marketing a property for sale. Our goal is to offer our clients something different that transcends the clutter and guides them in their search for the extraordinary. 86% of homebuyers use video to find out more about a community, 70% use video to see what the inside of the home looks like. Listings that include a video receive 403% more inquiries. Videos are share 1200% more than links and text combined.
Drone Photography and Tours
High quality aerial photography provides consumers with a different vantage point - taking them above eye-level and allowing them to understand the full scope of the property. Ideal for showcasing estate lots, impressive architecture, unique topography, auxiliary buildings and landscaping, drone photography captures the big picture in one shot.
Public Relations
Sotheby's International Realty is the most profiled company in the press. Our public relations team fosters relationships with leading media outlets to achieve two objectives: increase traffic to our website and generate exposure for the brand and our listings.
Social Media
Sotheby's International Realty has a growing number of more than 941K followers viewing our content on lnstagram, YouTube, Facebook, Pinterest, Linkedln, Twitter, WeChat, and our popular RESIDE® Blog. Our award-winning YouTube channel has more video views and subscribers than any other real estate brand. Our Piatt Sotheby's International Realty social media also garners a great deal of attention, reaching more than 250,000 unique users a year through the sharing of high quality content on Facebook and lnstagram. We showcase our listings' professional video and photography for exceptional exposure.
SothebysRealty.com
In 2021, the newly relaunched sothebysrealty.com won a prestigious Webby Award for Best Real Estate Website. Our enhanced website, now in 14 languages, engages millions of buyers, immersing them in your home via high-resolution photography, 3D virtual reality tours, and ultra-high-definition videos. Listings from around the globe can be accessed seamlessly on any device and mobile users can directly text a sales associate from any listing page.
RESIDE
RESIDE is the Sotheby's International Realty® brand's print and digital magazine devoted to the finest in inspirational homes and lifestyles worldwide. It is a destination for connoisseurs of art, culture, design, travel, fashion, food, and philanthropy, and another impactful way to reach even more buyers.
Explore RESIDE
RAPPORT
RAPPORT is a Piatt Sotheby's International Realty lifestyle publication with the mission of showcasing Pittsburgh's unique culture through the eyes of the most respected real estate brand in the world. In its pages, readers can learn more about how our city is fueled by our phenomenal arts, culture, science, technology, education and more.
Explore RAPPORT