When it comes to modern takes on menswear, Donrad Duncan doesn't just walk the walk—he bikes it.
On any given day, you'll fi nd the Jamaican-born designer biking around Manhattan, headed to work or dinner with friends—and for him, the commute is research. His EFM (Engineered For Motion) line, founded in 2014, is a cult fave among a wave of men looking for the nonsuit suit— clothes that take you from work to weekend, without skimping on comfort or the urban consumer's sense of luxury.
Designed in collaboration with Trinovation, a luxury-sportswear lab based in China, EFM's innovative fabrics breathe and stretch. In past seasons, Duncan has offered up parkas made of state-of-the-art waterproof wool, ultrasonically welded blazers, and trousers with adjustable-length cuffs (gathered by an elastic cord.)
You may not breathe and stretch as much as your personal trainer wants you to — but at least your wardrobe can.
Designed by Donrad Duncan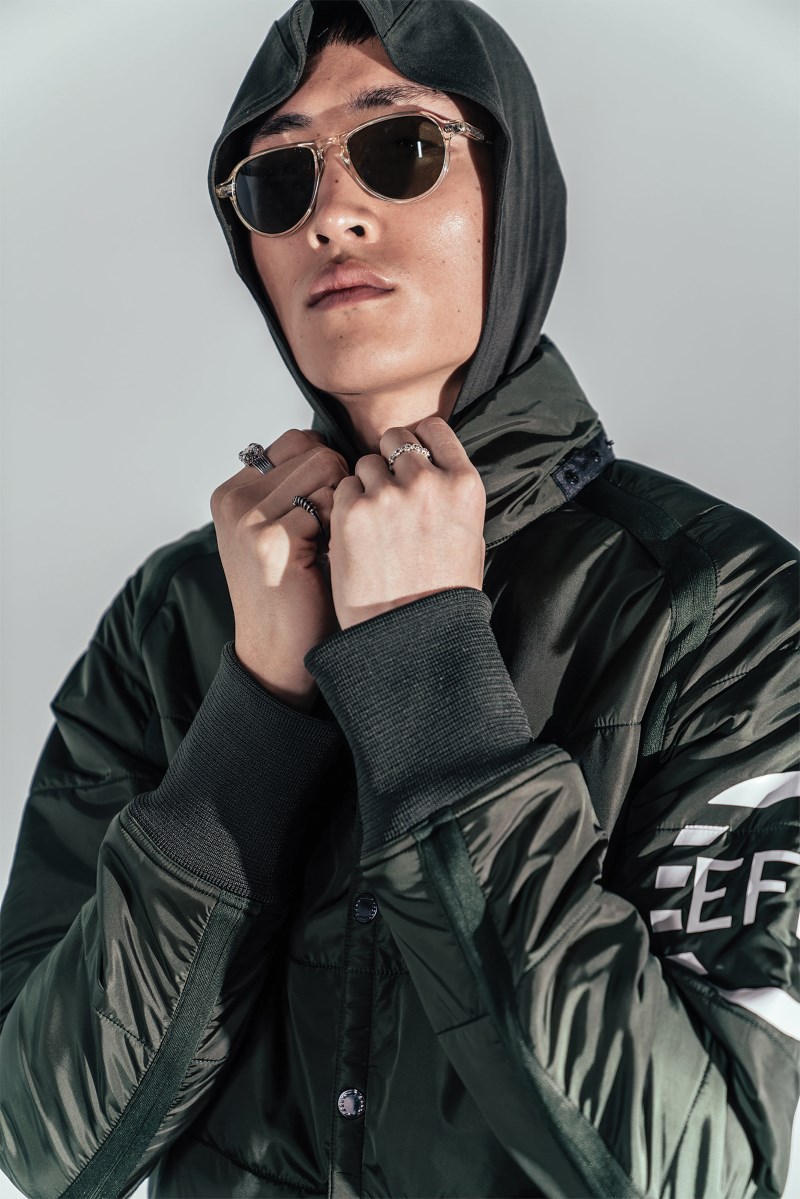 Your clothes are perfect for guys who are active, or want to look that way. So how active are you?
I ran track and field growing up. Now I do calisthenics in the morning. I bike. It's actually difficult for me to take a vacation to someplace tranquil.I go crazy. I like my apartment to be tranquil, but just a few meters outside that zone I like to know there's movement, action. [He laughs.] I guess that's a paradox.
Well, not for the guy who pioneered the concept of "active elegance." What does that mean to you?
Given the way we live today, we have to fold work tasks, fitness, and social gatherings all into one day. And people—especially guys—don't want to spend too much time on wardrobe.
And they want comfort, whether they bike to work or are squeezed in a train.
And then go to work, then dinner. "Active elegance" is being able to do as much as you want throughout the day while looking effortless.
You come from a family of tailors—your father, your grandfather. What did they teach you that stays with you?
My grandfather always liked when someone was asking him questions. And I've always been curious. I remember once he was telling my brother and me about the importance of a straight line. He was talking about plumb bobs and—
Hold up. Plumb bobs?
A plumb bob is an instrument — a weight hanging from a cord—used to determine a vertical straight line. He was saying how influential lines are in anything creative. How lines build shapes, and shapes affect emotion. At the time, we were like... why is this important? Of course, lines are so important in everything I do.
For instance, we have a knitted blazer created on a Japanese machine that can make [the whole garment] without seams. It fits like a sweater, contoured to the human body. A traditional blazer with a chest piece [seems] delicate. You put it down by folding it in half and putting it over a chair. You can stuff the knit blazer in a bag and go. It's perfect for travel. But it maintains a sense of comfort and drape. It looks great over a T-shirt, maybe with a five-pocket jean or jogger pant. That piece epitomizes what we do. Comfort, simplicity, clean lines.